NuVu+ is a full-time micro high school focused on expanding students' creative thinking. It is the first of its kind to be built around a collaborative and multidisciplinary studio model. Our school welcomes students ages 13-18.

All NuVu+ students are empowered to engage with real-world topics and solve problems through hands-on design.


Fill out this form if you're interested
A Decade of Studio-Based Learning
For the last 10 years, NuVu+ has been doing things differently. As the world's first fully-immersive studio-based school, our students have been using the design process to build authentic solutions to real-world problems and connect in meaningful ways to the communities around them.
Expert Coaches & Mentors
NuVu students have direct access to and build connections with Coaches and leading experts from MIT and Harvard. These mentors bring rigor to the students' process by providing daily feedback, challenging them to think in new ways, and encouraging iteration.
Student-Directed, Real-World Learning & Engaging Studios
Real-world studio topics, such as Designing During a Crisis and Shelter X Change, give students a voice and make their work relevant in the world in which they live. Using their creative skills, students come up with ideas and develop projects of interest that aim to improve the lives of others in their community.
Engaging Studios
Each studio is designed around timely topics that connect fields and disciplines. Working on open-ended problems, students deepen their critical thinking skills, express their creativity, and engage in a learning process built on hands-on exploration, both online and offline.
Deep Technical Skills
All learning at NuVu+ is hands-on. With direct access to the "Garage," our multifaceted fabrication shop, students are able to bring their ideas to life by using the latest digital tools, materials, and resources. By the time they graduate, NuVu students have developed a wide array of technical skills that can be applied directly to industry and work-place experiences.
Dynamic Online Platform
NuFolio is NuVu's in-house digital platform and collaboration tool that connects students to one another and to a network of experts and coaches. Designed to support the studio process, Nufolio makes student learning visible by bringing their ideas, prototypes, reflections, and presentations to the forefront. Nufolio allows students and teachers to collaborate inside and outside the studio through a shared workspace, supporting iterative design and a culture of innovation.
Small & Personalized Studios
Working in small studios focused on a common topic, students feel a shared sense of purpose through their work and are able to connect socially With a 6:1 student:coach ratio in each studio, students get personal Coach support while developing their projects and more peer-to-peer interaction.
Student Experience
Our students come from diverse backgrounds and from all parts of the world. While at NuVu+, they use their skills, character and knowledge within the design process to build authentic solutions that impact the world. By thinking broadly about the world around them and imagining new ideas, they learn to address problems at all scales.
There is no standard NuVu+ student. Our students include individuals whose curiosity leads them to ask boundless questions, tinkerers with a passion for engineering, design-minded makers, socially-conscious learners who want to make an impact through their work, and those seeking an environment that challenges them to think big, rather than hit the ceiling of grades and tests. They do, however, share one thing in common - a thirst for hands-on, interdisciplinary learning that fuels their interests and passions.
NuVu High School as the Epicenter
Unlike most high schools which operate independently, NuVu High School serves as the epicenter of our growing global NuVuX Network of 15 schools. NuVuX partner schools have a NuVu program embedded in the school run by a NuVu Fellow and collaborating teachers. Being connected to a network of schools offers students learning experiences that extend outside any course or city boundary, enabling our students to build intercultural skills, empathy, and global understanding. Here are a few of the unique advantages that our students have at NuVu High School.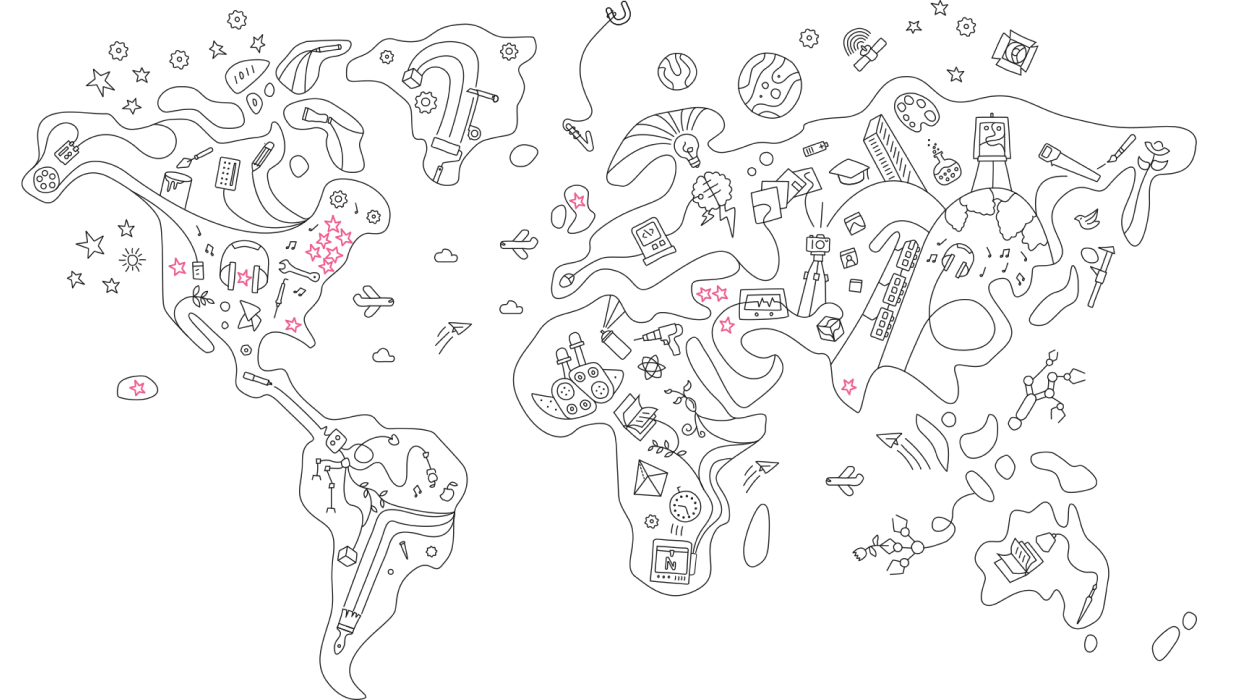 Global Learning
Global topics and projects that address challenges outside the U.S. are a cornerstone of our interdisciplinary model. Immersed in learning that is connected to global issues, students are exposed to and gain an understanding of diverse cultures, differing perspectives, socio-political differences, and how solutions must be tailored to the local context.
Exchanges
Students have ample opportunities for both virtual and physical exchanges with our partner schools. Each year, we run 5 to 10 virtual exchanges with different schools. Our students collaborate with students in different geographical areas and explore topics of relevance in that school's local context. Students also can elect to spend a semester away at one of our partner schools.
Continuous R&D & Access to Latest Tools
Our in-house R&D Team develops studio topics and tools that enhance studio-based learning and practices. Using NuVu+ as a platform for research and exploration in new studio topics, NuVu's R&D Team spreads best practices and studio learnings to the larger network of schools.
Future of Work
As part of their high school experience, students will spend a trimester or summer at a partnering company or organization through our Internship Program. These experiences have been foundational for our students because they are able to connect what they do within the studio to a larger context and apply their learnings at NuVu+ to tackle interesting real-world problems.
The skills and competencies that NuVu+ students develop are immediately transferable to the work environment. With experience working in teams, using critical thinking and problem solving skills daily on their projects, and having extensive exposure to open-ended problems, our students are able to transition effortlessly into the professional world. Company executives have noted the capabilities of our students as being key to the development of new products and systems.
Beyond NuVu
NuVu students are remarkable in that they are well versed in creative thinking and analytical skills valued by colleges, employers, and the world. Over their time at NuVu+, students develop experience working with clients, academic and industry professionals, performers, museums and galleries, and the general public. College admissions counselors have told us time and again the value of our students' education focused on interdisciplinary critical thinking, experience-based learning, and open-ended projects.
Beyond NuVu, our students have sought programs and colleges that embody the spirit of NuVu. Some of the colleges and universities our students have been accepted to include:
Babson College
Bard College
Bennington College
Brown University
Carnegie Mellon University
Chicago Art Institute
Clark University
Colorado School of Mines
Drexel University
Hampshire College
Harvard College
MA College of Art and Design
Massachusetts Institute of Technology
Northeastern University

Oberlin College
Parsons School of Design
Pratt Institute
Rhode Island School of Design
Rochester Polytechnic Institute
Rose-Hulman Institute of Technology
Union College
University of Massachusetts-Amherst
University of New Hampshire
University of Vermont
University of Southern California
Wentworth University
Wesleyan University
Worcester Institute of Technology