NuVu is a place where students explore their spirit of curiosity, creativity, and innovation by engaging in meaningful and relevant real world challenges.
Our students are confident critical thinkers. They have the skills, character, knowledge and design process to impact the world. By thinking broadly about the world around them, they learn to address problems at all scales, imagine new ideas, and build authentic solutions.
There is no standard NuVu student. Our students include individuals whose curiosity leads them to ask boundless questions, students with a passion for engineering who love to tinker, design-minded makers, socially-conscious learners, youth looking to make an impact through their work, and those seeking an environment that challenges them to think big, rather then be limited by grades and tests. They do, however, share one thing in common - a desire for hands-on, interdisciplinary learning that fuels their interests and passions.
Instead, we have studios. Around 12 students work closely with their 2 Coaches on solving big (and small) open-ended problems.
Instead, everything is fused together. Students find themselves moving between a studio that requires them to design a telepresence robot to another that requires them to re-imagine Boston with a cable car system.
Instead, we have an open space that changes all the time to adapt to the needs of every studio.
Instead, students spend two weeks from 9am-3pm solving one problem.
Instead, we have portfolios that document students' design decisions and show their final products.
NuVu High School takes forward our innovative curriculum and creates a pathway for students whose needs can be better served in a hands-on environment with global connections. The high school program expands on NuVu's rigorous studio-based curriculum, and builds on partnerships with companies, non-profits, academic institutions, and researchers situated in the innovation hub of Boston-Cambridge.
In 2010, our vision was to create a dynamic Innovation Center for students coming from diverse schools. Students worked on real-world challenges with creativity, critical thinking and collaboration at the heart of our pedagogy. In the first year of our program, all of our students were high schoolers who came to NuVu for a trimester-long experience.
In 2016, we graduated our first 4-year high school student who went on to enroll in the RISD-Brown Dual Degree Program. Gradually, our Innovation Center was transforming into an Innovation School with a mixture of both short-term (trimester-based) and long-term (multi-year) students.
Fast forward to 2020. Six of our seniors will be graduating from NuVu and embarking on the next stage of their educational careers. Many of our graduating students are attending top universities - Carnegie Mellon, MIT, Parsons, Olin College, RISD, Brown - while others have chosen to take a gap year to focus on internships, research opportunities, or starting their own companies. Whichever pathway was chosen, our students have developed important mindsets, skills, and knowledge that will allow them to be successful in their future endeavours.
Unlike most high schools which operate independently, NuVu High School serves as the epicenter of our growing global NuVuX Network of 15 schools. NuVuX partner schools have a NuVu program embedded in the school run by a NuVu Fellow and collaborating teachers. Being connected to a network of schools offers students learning experiences that extend outside any course or city boundary, enabling our students to build intercultural skills, empathy, and global understanding. Here are a few of the unique advantages that our students have at NuVu High School: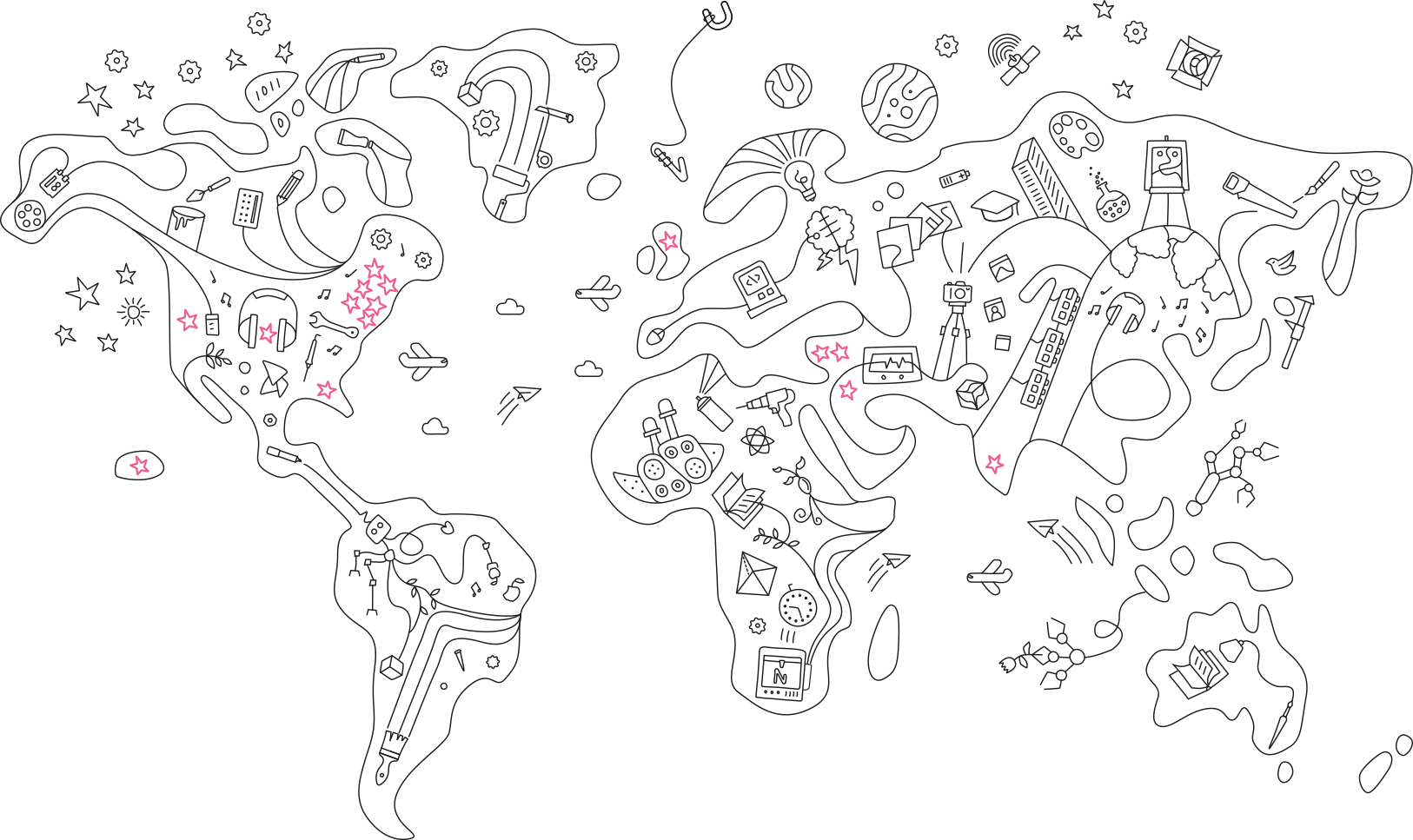 Global topics and projects that address challenges outside the U.S. are a cornerstone of our interdisciplinary model. Immersed in learning that is connected to global issues, students are exposed to and gain an understanding of diverse cultures, differing perspectives, socio-political differences, and how solutions must be tailored to the local context.
Students have ample opportunities for both virtual and physical exchanges with our partner schools. Each year, we run 5 to 10 virtual exchanges with different schools. Our students collaborate with students in different geographical areas and explore topics of relevance in that school's local context. Students also can elect to spend a semester away at one of our partner schools.
Our in-house R&D Team develops studio topics and tools that enhance studio-based learning and practices. Using NuVu High School as a platform for research and exploration in new studio topics, NuVu's R&D Team spreads best practices and studio learnings to the larger network of schools.
NuVu students are remarkable in that they are well versed in creative thinking and analytical skills valued by colleges, employers, and the world. Over their time at NuVu, students develop experience working with clients, academic and industry professionals, performers, museums and galleries, and the general public. College admissions counselors have told us time and again the value of our students' education focused on interdisciplinary critical thinking, experience-based learning, and open-ended projects.
Our students have sought programs and colleges that embody the spirit of NuVu. Some of the colleges and universities our students have been accepted to:
Olin College
USC Iovine and Young Academy
Massachusetts Institute of Technology
Carnegie Mellon University
Parsons School of Design
Rose-Hulman Institute of Technology
Worcester Institute of Technology
Rhode Island School of Design
Brown University
Rochester Institute of Technology
Northeastern University
Colorado School of Mines
As part of their high school experience, students will spend a trimester or summer at a partnering company or organization through our Internship Program. These experiences have been foundational for our students because they are able to connect what they do at NuVu to a larger context. They can apply what they learn at NuVu to tackle interesting real-world problems.
The skills and competencies that NuVu students develop are immediately transferable to the work environment. With experience working in teams, using critical thinking and problem solving skills daily on their projects, and having extensive exposure to open-ended problems, our students are able to transition effortlessly into the professional world. Company executives have noted the capabilities of our students as being key to the development of new products and systems.