NuVu Summer is back for another season of creative hands-on learning - Onsite!
Summer 2023 opens up a treasure chest full of discoveries, adventures, and new knowledge. Join NuVu this summer as we pave through uncharted lands with the help of exploration rovers, battlebots, naturalia wearables and much more. Through each unique studio, students explore the theme of uncharted lands and discovery as they immerse in the long lost tales of hidden treasures and transformative voyages.
In each studio, students will stretch their creative limits to come up with something they have never created before. Over a period of two weeks, students will go through the process of conceptualizing, designing, making and presenting their projects learning technical skills along the way. They will learn to work together in teams and collaboratively problem solve with the help of their coaches. Don't miss the chance to experience our most popular NuVu studios- onsite!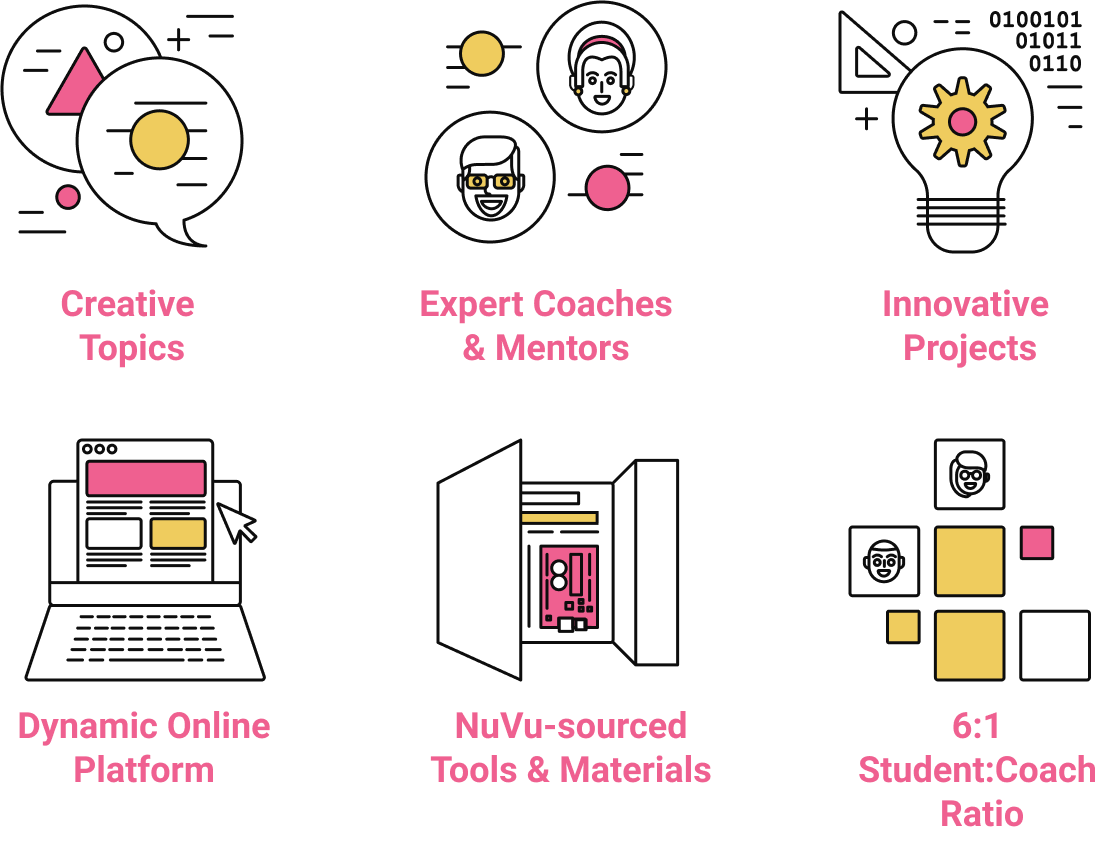 All studios are open to students ages 11-15
$2075 Fee all-inclusive price includes:

• Catered fresh daily lunch (11:45am - 12:45pm)
• Dedicated NuVu Coach (6:1 student to coach ratio)
• Studio content & activities
• Expert instruction and facilitation on projects
• Equipment, tools, materials, supplies for student projects
NuVu is committed to providing families with the necessary financial aid to as many qualified students as possible. For complete details please contact summer@nuvustudio.org.
Monday - Friday for 2 weeks | 9am - 3pm EDT
Daily Lunch 11:45am - 12:45pm (Students can elect to bring their own lunch)
Students are required to bring with them to NuVu daily:
• Mac or Windows PC computer
• Sketchbook & writing utensils
• Water bottle


NuVu Coaches are experts in their fields, bringing specialized skills in design, robotics, engineering, fabrication, and art. All Coaches are experienced in a safe, student-centered, teacher-supported approach. Student to Coach ratio is 6:1.
NuVu is located in the heart of Central Square, Cambridge, and shares a building with the Central Square Theater. The building is set back from Mass Ave. The main entrance is through a courtyard adjacent to La Fabrica Restaurant. At the main entrance, there is a digital intercom system.
NuVu Summer 2023 is launching this July! We plan to have an onsite program with students at NuVu Innovation School in Central Square, located at 450 Massachusetts Ave,Cambridge, MA.
Hands-on making is a core part of the learning experience at NuVu. For our Onsite Summer 2023, each student will receive the tools and materials needed for their Summer Studio. They will also use digital fabrication tools (3D printers and laser cutter) to develop their ideas - designing human augmentations, creating wearables inspired by nature, building exploration rovers, and inventing augmented reality games to uncover the mysterious worlds beyond Earth.
Student registration is processed on a first-come, first-served basis. Students can only register for one studio per 2-week Session. Because studio enrollment is limited, we recommend that you register and send your final payment as soon as possible in order to ensure studio choices.
Through online registration, a deposit of $200 is paid via credit card. Credit cards are accepted for deposits only.
The final payment is paid by check. Checks should be mailed to:
NuVu
450 Massachusetts Avenue
Cambridge, MA 02139
Attn. Summer
Final payments must be made by check and received within 30 days of registration. Final payments not submitted on time could result in the forfeiture of your student's spot to another student on the waitlist. If it is necessary to cancel a registration, deposits will be refundable until June 30, 2023.
Multi-Session Discount
Two Sessions: $3775 ($275 total discount)

Sibling Family Discount
$75 discount will be applied to each student registration for two or more students in a family.
If you have questions, please email us at summer@nuvustudio.org.
Which age group is attending NuVu?
NuVu's students are as young as 11 years of age and as old as 15 years.
What kind of student is a good fit for NuVu?
NuVu's students are young people eager to build new things, use technology, and work in a team of makers. They are curious and ready to learn in a new way. Because of the diversity of personalities and interests of NuVu participants, almost all of our students will find their niche in one or more of the Studios.
How do you ensure that all students receive personal attention?
Personal attention is not the exception but the rule at NuVu. Each student is part of a Studio and the staff-to-student ratio is approximately 1-to-6. The NuVu Summer Team of Coaches and Summer Program Coordinator are directly responsible for addressing the needs of each student. There are regular check-ins each day to ensure that the student is engaged, learning, and invested in their work.
Where is NuVu located?
NuVu is located at the address below:

NuVu Studio
450 Massachusetts Avenue
Cambridge, MA 02139
(617) 945-7716

Nuvu shares a building with Central Square Theater. The building is set back from Mass Ave. The main entrance is through a courtyard adjacent to La Fabrica Restaurant.
At the main entrance, there is a digital intercom system.
Driving & Parking
2 hr short-term metered parking is available on Bishop Allen Drive. 1 hr metered parking can also be found on Massachusetts Ave. and in the vicinity of NuVu
Public Transportation
Take the MBTA Red Line to Central Square and walk east two blocks on Massachusetts Avenue to arrive at NuVu. There are several bus routes within two blocks of the NuVu. Visit the MBTA for more info.
Will there be lunch?
NuVu will provide a catered lunch daily. The cost of lunch is covered in the tuition fee. Your child may bring their own lunch, especially if they have any special food needs or preferences. NuVu has a refrigerator and a microwave on its premises that may be used by the students. Students are not allowed to leave NuVu during lunch unless permission is provided by their parents or guardian. Please note that students will not be supervised if they leave NuVu for lunch.
How long is the lunch break?
The lunch break is one hour, typically from 11:45am to 12:45pm.
What should students wear?
Students should dress in comfortable attire that can also withstand some hands-on work in NuVu's tool shop. Students should wear closed-toe shoes (no flip-flops). We recommend bringing an extra sweater; it might get cold in our space due to the AC over the Summer.
What is the staff-to-student ratio?
NuVu's staff-to-student ratio is approximately 1-to-6.
If parents have any concerns during the summer, whom should they contact?
Parents should contact the Summer Program Coordinator through NuVu's Main Office via email (summer@nuvustudio.org.) or phone (617-945-7716).